READY TO BUY?
YOUR PURCHASE INCLUDES:
A series of 12 interactive e-books that provide an in-depth guide, written by a psychotherapist, for children and their families to cope with the loss of a loved one.

Six songs sung by Sara Vincent and written by renowned composer David Friedman who has written songs for Disney, Broadway and more.

Downloadable PDF versions of each of the 12 Roo-Letters. Each Letter is 20-30 pages.

Personal passwords to open each letter in the comfort of home.

Reassurance that you are helping a child to move along, step by step, as they learn to identify and express their feelings and thoughts, and feel less alone with their grief.

Links to videos, numerous Roo-Tivities with each of the 12 Roo-Letters to engage a child and to teach life-long coping skills, helping to build confidence and resilience.

The opportunity to interact with Melodee Roo The Tree Kangaroo by writing their own letters or sending videos!
$120.00 (use code X60J4V0 for $60.00 off! )
Friends of the family and other relatives often wonder how to help children after the death of a close family member. You can purchase Melodee Roo & The Wantoks Too! as a gift.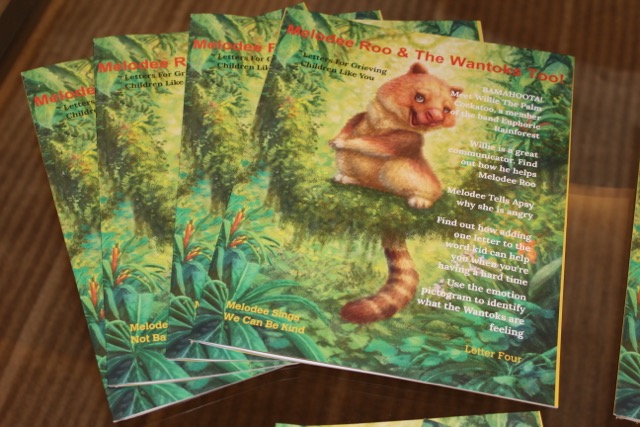 Not every family that can benefit from inviting Melodee Roo and her friends into their lives can afford to do so. To help, we've created a special Melodee Roo's Kids Kindness Fund to give away one at-home program to Melodee Roo & The Wantoks Too! Letters for Grieving Children Like You for every 10 purchased.
If you want to be kind by sponsoring a child and their family, please click the donate button. You will be notified of when a child receives the donated program. You will also receive a gift of gratitude for your donation. Thank you so much!