The Worst Advice For Grieving Children... 
Your life changed in an instant with the death of a loved one. Your heart is broken, and you're barely hanging on. As a parent, you feel lost and don't know how to help your children. 
The advice you hear is to "keep things normal for them". So you try your best. But there's nothing normal about the death of a parent or other family member. Keeping things normal can prevent children from learning to cope effectively with life's most difficult challenge. 
Hiding feelings, not talking about worries, unexpressed guilt and confusion can increase the risk for psychosomatic complaints, nightmares or sleep issues, school performance or behavioral issues, anxiety or depression, relationship problems, and at the extreme, substance abuse or self-harming behavior.
Get help to be the parent you want to be during the hardest time of your life. 
Melodee Roo and the Wantoks Too! Letters For Grieving Children Like You guides you and your children step by step, right in the comfort of home in this award winning e-book series.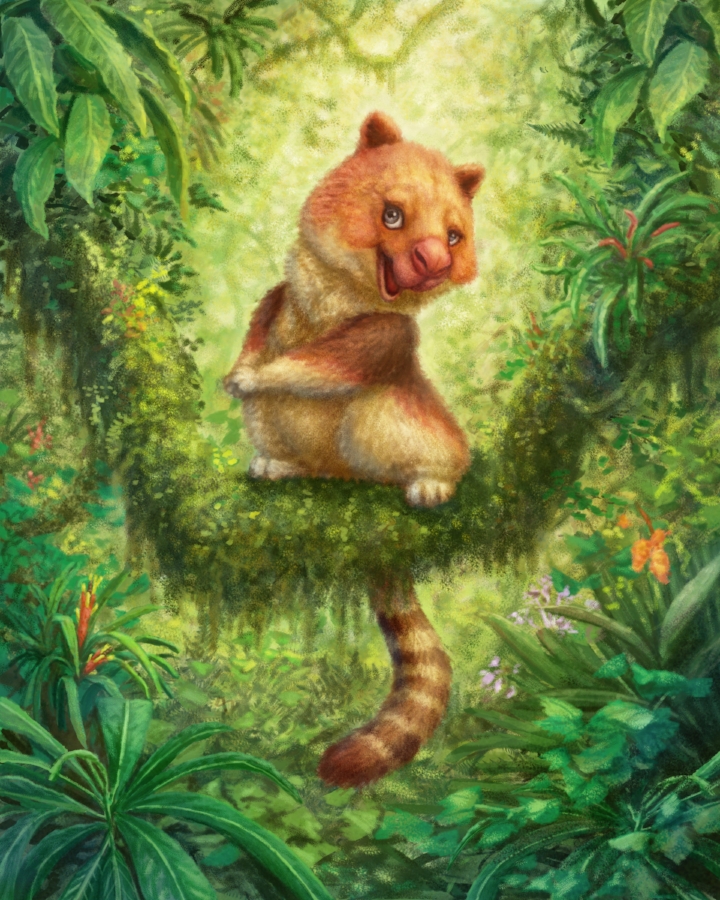 A grieving child deserves the companionship of loving and kind characters like Melodee Roo The Tree Kangaroo and her friends, the Wantoks.
"I Have To Be Strong For The Kids"
So, you cry alone. You want to protect them from the pain. But the truth is, you can't. Even by trying to keep things normal. They go to school, engage in sports, play with friends. They seem to be doing okay. It seems easier to not talk about it.
But they still feel the pain. Their pain and your pain. No one wants to burden anyone. But, like adults who go to work even when they can barely get out of bed, children continue to laugh, play and hang out with friends because this is what kids do - it's their job.
That doesn't mean they're coping. It doesn't mean kids are more resilient than adults. Avoiding is not the answer. Ignorance is not bliss. You all end up feeling alone and lost. 
Trust me. After 40 years as a psychotherapist and marriage and family therapist, I know. When children aren't guided to cope, stuff happens...
A 10-year-old girl says she is depressed because her grandmother is no longer here to take care of her after school. Her grief has been ab-normalized and labeled as depression. Her mom cries when the death of her mother enters the conversation. Her daughter holds back so as not to upset her mom.
A 12-year-old feels guilty for not spending time with his ill mother before she died. He was never told about the seriousness of her illness. Now he is confused, isolates himself from others and frequently complains of stomachaches.
A 28-year-old man comes to therapy because he is depressed and abusing drugs. He recognized that he never dealt with the sudden death of his sister when he was young. He felt alone, abandoned. His father was not around. His mother, emotionally unavailable to him, was stuck in her own grief for years, along with trying to cope with a chronic illness.
Melodee Roo and Her Friends Can Help
Series of 12 roo-Letters 
Each Roo-Letter focuses on how to cope with one aspect of grief: physical sensations, sadness, anger, worry and negative thoughts, guilt, forgiveness, communication skills, resilence, and more.

Your purchase provides immediate access to all 12 Roo-Letters as interactive e-books anywhere, anytime.

Move through the letters at your own pace, according to the needs of your child.

Go back to previous Roo-Letters at any time to revisit your child's favorite parts of Melodee Roo's story.
Interactive Roo-tivities
Each Roo-Letter includes multiple Roo-Tivities designed for children ages 6-12, although younger and older children enjoy many of them, too.

The Roo-Tivities are hands-on activities done by the child or with the help of an adult to apply the essential lesson from that specific Roo-Letter.

The goal of these Roo-Tivities is to help your child discover ways to express their emotions and thoughts and internalize the lessons learned.
Each Letter is 20-30 pages
Each full-color Roo-Letter is beautifully illustrated with original artwork designed to appeal to children of all ages (and their parents, too!).

The engaging story, as told by Melodee Roo and her friends The Wantoks, capture your child's heart while leading them through their own stories of grief and loss.

Essential lessons about grief and the healing process are woven throughout each Roo-Letter, providing gentle guidance in a loving format.

Teaches your child how to turn pain into power.
Music that heals
The 12-letter series includes 6 original songs written by acclaimed Broadway and Disney composer, David Friedman and sung by Sara Vincent.

Just click to listen to songs like It's Not Bad To Be Sad throughout the Roo-Letters, or to videos chosen for their messages of love and healing.

For a small fee, you can download personal MP3 copies of our original songs for your child to enjoy anywhere whenever you need a musical hug from Melodee!
Melodee Roo In the News...
"We had our two grandchildren visiting for a few days. My five year old granddaughter was crying, saying that she missed her daddy. As I rocked her in the rocking chair, I thought, 'What would Melodee Roo do? I used a Roo-Tivitie and then her brother did some silly things to make her laugh. We were able to move through it. Thank you so much!" - Barbara R. 
"From start to finish, I was excited and amazed by the quality of the writing, the engaging characters, and the powerful message you so eloquently convey. What an exceptional tool for families who are grieving. You capture the essence of what it means to experience loss with such beauty, compassion, and even humor. The music component adds so much to your product. The lyrics are so meaningful, and sung by Sara Vincent in such a beautiful way, that it brought me to tears...not because I found the songs sad, but because the music provides a real sense of comfort." - Lisa L. 
About Sharon Diaz LPC, LADC
Licensed Professional Counselor, Licensed Alcohol & Drug Counselor, Marriage & Family Therapist For 40 Years
Each Child Grieves Differently...
Just as you are a unique person, each child is unique in personality and how they communicate. One child may be quiet and withdraw. Another may get clingy. Another may openly ask questions, while another may avoid and run away, not wanting to talk at all. Some children will complain of stomachaches, another may get cranky and irritable. Nightmares might be frequent.
This is not just another nicely illustrated children's book about loss.
It is an at-home grief support program specifically designed for families to help their children over the course of one year, but can be used for many years. Each Roo-Letter keeps in mind all the different ways one will grieve. It gives permission for a child to be sad, angry, scared and even happy. It helps them to not feel alone.
Through story, art, music, humor and different activities, every child can have an outlet to express their thoughts and feelings. They will gain understanding, access their courage, and turn their pain into power to adapt to the loss of their loved one.
If you don't help your child with their loss now, it can impact them for their entire life.
A 35-year-old single mom, has been very successful in achieving her goals since she was pregnant with her son, 19 years ago. She had to learn at a young age to be responsible for herself. After her mother's murder when she was 7, she had to live with different family members. They never talked about her mother. As she grew up, she learned to boldly go after what she needed, in order to survive. But, she also gets so overwhelmed with intense anxiety, because she always believes the worst will happen to her and her children. It interferes with her sense of safety and freedom. She is afraid to take healthy risks or to enjoy her life.
A 19-year-old young woman worries that she will get so depressed that she will take her own life, as her father did when she was ten years old.
A 30-year-old man won't commit in a relationship because he is so afraid to connect, afraid to lose someone else whom he deeply loves. His mother died when he was 11 years old from cancer. He became obsessed with his health and devotes his life to learning all he can about healthy living.
Unconditional Guarantee
You have enough to worry about right now... so I offer a 100% satisfaction guarantee. Your free trial includes the first of 12 "Roo-Letters" - each designed to help children identify and communicate about a different aspect of grief. If you and your child enjoy the first Roo-Letter, purchasing the entire 12-letter series will be easy peasy.
This is not a monthly subscription. It is a one-time purchase and you will have access to the entire series to work through at your own pace. If, after your purchase, you decide for any reason that Melodee Roo & The Wantoks Too! Letters for Grieving Children Like You is not for you, simply send me an email within 7 days of purchase, outlining your reason and I will gladly refund you your purchase price.  
I am confident that you and your child will enjoy spending time with Melodee and her friends the Wantoks! And, they are encouraged to engage with Melodee Roo by email, or by sharing a photo or video of their Roo-Tivities! I invite you to receive Letter 1 for free so you can see for yourselves.
More Words of Praise for Melodee Roo
"Sharon Diaz LPC, LADC has used her professional expertise and writing abilities to create a wonderful tool to help children through the grieving process. Her warmth, compassion, and child-friendly approach allows children and families to move along, step by step, as they express their feelings, gain insights, and feel less alone with their grief. Children can identify with this fictional character and her friends in the rainforest as they encourage each other and move forward to find love, mutual support, and joy in spite of the losses that are a part of our life experience." -Victoria Sherrow, Children's Author
"The in-depth guidance presented in the Melodee letters, songs and Roo-Tivities gave me a great start in helping my family with a terrible loss. Especially with several young children that could not express their feelings with words. I found myself re-reading several earlier letters more than once, and listening to their favorite songs. To me, this is an investment for my family, because the amount of information is invaluable to take advantage of over and over. The cost of this wonderful tool is less than a copay one would have to pay for counseling. While this is not counseling, Melodee Roo & The Wantoks Too! provides continuing support for grieving children and their family throughout the year and longer. Thank YOU!" - Theresa R.
"You cover the various feelings one goes through during the grieving process in a clear, simplistic, and relatable way. The way you encourage sharing feelings to help with healing is wonderful. You help validate feelings. You also give good coping strategies to help deal with those various feelings. I also thought your explanation of what happens when you die and the various causes of death was very effective." - Suzanne L.
Bamahoota Dear Friend!                                                                                    
It's me, Melodee Roo, The Tree Kangaroo,
Did you know that Bamahoota means both "Hello" and "Goodbye"? During this tough time in your life having to say the hardest goodbye, I'm so glad that you took the time to read all about me. Helping your child cope with the loss of your loved one is important to me. I know personally how hard it is to miss a loved one.
Your compassion and commitment to help a child during this tough time shows what a good and loving parent (or grandparent, friend, or teacher) you are. I hope that you enjoy my story and songs and Roo-Tivities too, because it's important to help your broken hearts to feel better and start to heal.
Please feel free to contact me with any questions you might have. I love helping children and their families and I would really love to be your child's friend. Let's get to know one another in the Roo-Letter 1 Today and say "Hello" to a new friendship.